Darknet is a concealed part of the Internet that is specially designed to ensure the anonymity of users. While it does exist within the Internet, it can only be accessed with special tools and software. While there are multiple variations of darknet and its implementation, the most popular one of them is Tor. Tor provides access to dark web which is collection of hidden contents within the world wide web. Tor utilizes a network of volunteer devices in the Internet to route traffic via them so that it can not be traced back to the origin. Tor enables access to the onion network which contains hidden websites and services that cannot be accessed via normal browsers. While the main intent of Tor is to provide an untraceable communication channel to activists, dissidents and whistleblowers it is widely utilized for criminal and shady activities as it ensures anonymity of the people. Many criminal activities can be found thriving within dark web such as drug markets, scams, child pornography, hacking services, terrorism and supposed hitman services.
As per metrics.torproject.org there are about 500 connections per day to Tor from Nepal. While most of these connections might be from Internet users conscious of revealing their identity to various trackers operating in the Internet and web, there are no doubt some people accessing Tor for unethical motives. This is a rather unexplored topic in case of Nepal. The presence of Nepal in illegal parts of dark web that was here before not studied have been detailed in the recently published Threat Report 2017.
The major unsavory parts of the dark web where Nepali presence was widely observed were child pornography forums. Nepal recently has become a hub for pedophiles from various nations, just last year 2 foreign nationals were arrested and charged with pedophilia charges. Henrykus Adrinas Josepus Creujesan of Holland and Albert Fred Klinicke from Germany were arrested for being involved in pedophilia. Xinhua, a Chinese news agency published a news report last year about how foreign pedophiles were targeting Nepal emboldened by illiteracy and lower economic status of Nepali society. During our research we observed that the child pornographic forums in the dark web were also promoting Nepal as a haven for pedophilia. Within these forums there were plenty of discussions regarding pedophilia and Nepal, specially Nepali orphanages and their use for child exploitation.

Furthermore, many pornographic contents and materials from Nepal were also found in these forums.


Also, we found a user from Nepal with a Nepali name within one of the pedophilia related forum. The user "पहिलो हुनुहोस्" was actively distributing pornographic materials in the forums.

Another corner of the dark web where Nepali presence was quite apparent was the drug markets. Within the many drug markets in dark web, almost all of them contained drugs purportedly from Nepal. Most of the drugs that were claimed to be of Nepali origin were hash, opium and charas. While they were claimed to be sourced from Nepal, these drugs were being shipped from different countries.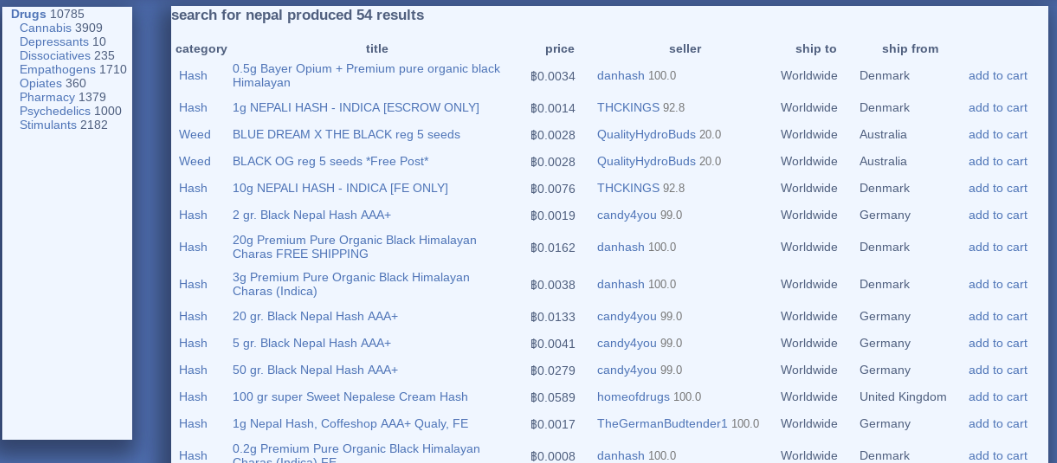 What was surprising was that a drug dealer based in Nepal was also found to be operating in one of the drug trading platform. The trader was amusingly named "JARIBOOTIWALA" and was selling Opium and Modafinil that was claimed to be shipped from Nepal.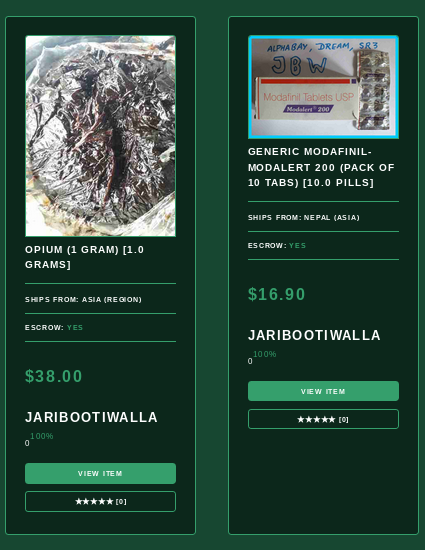 These findings show the presence of Nepali Internet users in illegal dark web scene. This presence will only increase overtime if no action is taken to curb such activities.
This post is an excerpt from "Threat Report 2017" which can be accessed in its entirety from https://threatnix.io/2017.